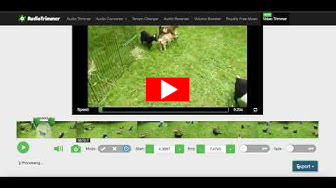 Cut Video Online
Trim and cut any video file online for free and download to your device without watermark.
With our intuitive interface, you can instantly trim your videos, change their playback speed, add fade to black effects or remove sound of your videos with just a few clicks.
You don't need to download and install anything. It just works on your browser!
Fast, Intuitive And Free
AudioTrimmer's video editor is a very intuitive tool to do quick edits on your videos just using your web browser. The moment you select your local video file, editing screen opens up and allows you to trim, cut, remove unwanted parts of your video, add fade in/fade out effects, change playback speed or remove embedded audio from your videos.
However, if you are looking for an offline video editor, you can try OpenShot
Add Slow Motion & Fast Forward Effects
With just a few clicks, you can add a slow motion or fast forward effect to a certain part of your video. In Change Speed mode, move the markers to select the part of the video to speed up or slow down, adjust the speed of that part using the slider and press Export. The effect will be applied only to the selected part and rest of the video will remain the same.
Just try it yourself to see how easily you can create amazing super slow motion and fast forward effects with your videos!
How can I remove an unwanted scene from a video?
With this online tool, removing a scene from a video is super easy:
Choose a video file from your device to open up the editor.
Click on the Mode switch to put the editor in Remove mode.
Drag the green handles on the timeline to mark the scene you would like to remove.
After you have marked the unwanted scene precisely, press Trim. The editor will remove the marked scene and join the remaining parts to create a new video.
Now you can download your new video without the unwanted part.
How to capture a still image from video online
Using this tool, it takes seconds to extract full-size still images from videos online:
First, choose the video file from your device that you want to get stills from. Editor will open the video instantly if your browser supports it.
Click a point in the timeline and click the Camera Icon.
A snapshot captured from the exact time of the video will appear.
Now you can click on the Download button to download the full size image to your device.
Repeat the steps as many times as you want. It's super fast and totally free!